SecuX Crypto Hardware Wallet W10x2 ( แพ็คคู่ )
ตารางเปรียบเทียบ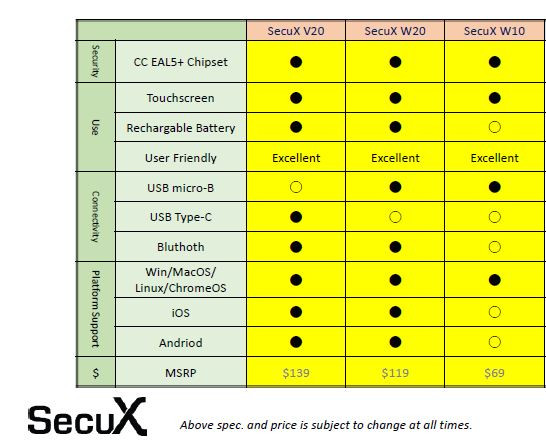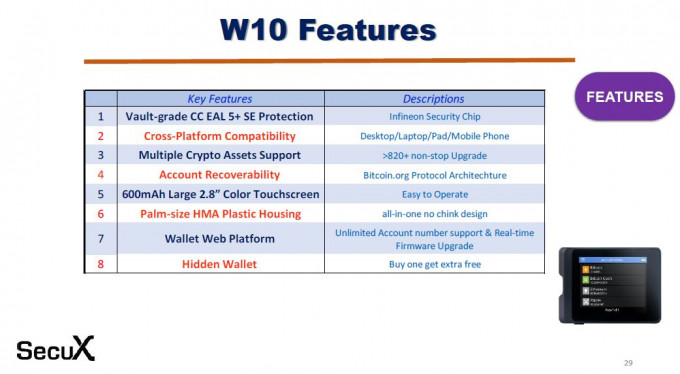 SecuX Crypto Hardware Wallet W10
หน้าจอสัมผัสสีขนาด 2.8 นิ้ว
ความปลอดภัย : Infineon SLE Solid Flash CC EAL5+
การเชื่อมต่อ : USB
ช่องเชื่อมต่อ : USB micro-B
รองรับ OS Platform : Windows, MacOS, Linux, ChromeOS
รองรับหลายอุปกรณ์ : Desktop/Laptop/Tablet
เหรียญและโทเค็น : BTC, BCH, ETH, XRP, LTC, BNB, DASH, DOGE, XLM, DGB, GRS, DAPS, ERC-20 Tokens, etc.
อายุแบตเตอรี่ต่อการชาร์จหนึ่งครั้ง : nil
วัสดุเคส : ตัวเครื่องพลาสติกพร้อมการเชื่อมด้วยอัลตร้าโซนิก
Palm-size HMA Plastic Housing
Large 2.8" Color Touchscreen
USB Micro-B for Desktop/Laptop
SecuX STONE W10 Lite product is an easy-to-use bitcoin wallet for beginner to safely keep crypto investment.
Embedded with "Infineon" (Germany Company) CC EAL5+ certified Secure Element chip
Large 2.8" Color Touchscreen display
SecuXcess Web Wallet Interface
Account Expandability up to 500 accounts for the digital asset coins
Multiple Cryptocurrencies Supported
360° Comprehensive Multi-layer Security Shield
Our entry model and the best choice for cryptocurrency beginners. It supports cross-platform and USB connectivity.